Other Services
Transcripts
All you need to do is ask Akzént...
We transcribe foreign-language passages taken from conference recordings or similar materials. The only prerequisite is that the recorded material is of good quality and available on standard, conventional cassettes.
Proofreading
And just in case you need us to dot the i's and cross the t's...
Sometimes, it all boils down to the manuscript being revamped into a polished, attractive advertising text. We'll gladly proofread your German or foreign-language draft. Depending on your needs, we can either refine the content and form of your documents or simply make the necessary spelling and punctuation corrections.
Conference Equipment
And since you've put your full faith in professionals...
...why not benefit from our best connections? Our close cooperation with conference equipment suppliers means that we can offer you comprehensive advice on the technical equipment needed or put you in touch with the right equipment firms. If you prefer, we can offer you all-round service: a team of interpreters and the appropriate conference equipment!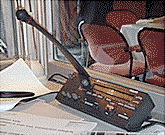 Conference Equipment