Interpreting
When you have an international audience, we know what it takes to get people communicating effectively at your event and we'll happily advise you on the form of interpreting that best suits your needs!
International events are a melting pot for different languages and different cultures. The key to achieving the right blend is clear and uninhibited communication. That's why the choice of interpreting style and interpreters is crucial. So, when it comes to tasks of this nature, you need to be able to rely on a competent team with many years of experience in the business! In consultation with you and taking your concrete requirements into account, we set about providing you with a professional team of interpreters.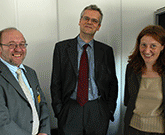 Contact us for professional advice!